General Information:
LRDG Society Mission (this page)
Newsletter (this page)
Trooper Section Bio's
WWII LRDG History (text)
Reference Materials (text)
LRDG Tool Box (how to do's)
Newsletter Back Issues (text)
Books for Sale & Membership Info
In Memory Of
---
British Section:
Desert Raiders - British Section
Newsletters in PDF format
November 2006 (Issue)
---
PHOTO GALLERY:
WWII LRDG units in the field
Trooper Album
LRDG Vets and Relatives
Vintage Equipment & Gear
New Photos
Radio Truck under Construction


Recent Shows, Meets, Displays
Vintage Cartoons & Show Awards
Early Truck Construction Pics
Modern Desert Units
Modelers Section
War & Peace Show 2010
2007 War & Peace, England
---
VIDEO GALLERY:
Killing Rommel Video
(requires QuickTime)
Killing Rommel Video
(YouTube version)
---
GUEST BOOK:
Sign the LRDG Guest Book!!
View the Guest Book
View Guest Book ARCHIVE
---
LRDG Links Page!
Drop Jack a note if you want to trade links related to LRDG, WWII, living history, etc.
---
Again available in the U.S. "Kiwi Scorpion" the first work of noted LRDG author Brendan O'Carroll has been republished in an extremely limited quantity. Originally published in 2000 this 2nd printing is the same as the original with errors corrected and new information included. The chapter on "The Assault on Levita" has been rewritten with more details.
Do not miss this opportunity to get one now. I have limited quantities on hand for immediate shipment.
LRDG Preservation Society price of only $79.95 plus postage (US only). Send email to lrdg@Prodigy.net to get a copy.
---

New Book: Barce Raid.
Available for $48.00 Post paid within the U.S. See Jack's book review!
---
WWII Music:
The song "Lili Marlene" was very popular with Germans soldiers during WWII, but not liked by official Germany. "Lili Marlene" was also popular with allied forces in all theaters of the war, but frustrated Brit officers when their troops sung the German version.
Song clip "Lili Marlene", German and English versions (Requires RealPlayer)
---
EMAIL CONTACT:
Send questions, comments, suggestions and information to Jack Valenti at the LRDG Preservation Society email address: LRDG@prodigy.net
---
LRDG Facebook Site:
Come visit and join our new Facebook group called: "Long Range Desert Group (LRDG) Preservation Society" (link: http://www.facebook.com/home.php?#/group.php?gid=156542796560). If it works out OK we'll keep it going. Let Jack know if it's useful.
---
Hits as of June 2009

LRDG site designed using:

---
Mission Statement of the LRDG Preservation Society: To learn as much as possible about the unit, the men in it and the equipment and tactics they used. Then to share that information with all whom wish to learn. To that end this group has built a replica of a classic WWII LRDG truck (1942 Canadian Chevy, right hand drive, India format) and outfitted it with "historically correct" military equipment, gear, provisions, and uniforms. The vehicle was built by Rick Butler in Yreka California from several vintage trucks and parts from around the world. Converting a left hand drive vehicle to right hand drive was one of many challenges.
The LRDG Preservation Society is the inspiration of Jack Valenti who is the chief historian, coordinator of equipment and artifact procurement and show organizer. The truck is displayed several times a year throughout the California, Nevada, Oregon and Washington areas and staffed by "LRDG clad" volunteers. This is a non-profit organization that survives through its volunteers whom donate equipment, historical information, time and money. Our society includes LRDG enthusiasts from countries like England, Canada, New Zealand, Australia, Portugal, South Africa and more. The only requirement for membership is an interest in history, get on the mailing list and maybe an official LRDG T-shirt! For more information contact Jack at his email address: lrdg@prodigy.net

WWII LRDG truck (1942 Canadian Chevy, right hand drive, India format)
---
---
LRDG Newsletter

Dec 13th 2014

I cannot believe that another year has "galloped by". I have been real negligent in having posted to the web site the events of this past year, but will see if we can get caught up.
Just like last year; there are several new books out that you might be interested in adding to your library. The first one is "Operation Salam" which was a 1942 WW II military operation organized by the Abwehr under the command of the Hungarian desert explorer Laszlo Almasy (pronounced Al Massie). The mission was conceived in order to assist Panzer Army Africa by delivering two German spies into British-held Egypt. Written by authors Kuno Gross (author of several other books); Michael Rolke (author of "Germans in the Sahara" about the Sonderkommando Dora; and Andras Zboray (Desert Expedition Organizer -http://www.fjexpeditions.com/ ). I have just started reading it so can't give you much information at this time.
<![if !vml]> <![endif]>
The next has been recently released and is titled "The Eyes of the Desert Rats" by David Syrett. David and I had some correspondence several years ago when he was working on his book and he sent me a copy of the unpublished manuscript with all of the scratch outs and corrections. I read it then but I'm waiting for my copy to arrive (I asked for it for Christmas). The sad part is that David has passed away and his wife is the one that got it published after his death.
<![if !vml]> <![endif]>
Now for a tentative schedule of 2015 events:

<![if !supportLists]>1. <![endif]>March 14th – 16 – CHG Desert Battle – California City or Stoddard Valley (TBA) S Patrols http://www.chgww2.net/events/

<![if !supportLists]> 2. <![endif]>April 22nd - 26th – MVCC "Camp Delta" – Tower Park, Lodi, Ca. I have reserved three camp sites and there should be plenty of room for all of us. T - Patrol http://www.mvccnews.net/

<![if !supportLists]> 3. <![endif]>May 2nd – 3rd - Planes of Fame – Chino – S & Y – Patrols http://planesoffame.org/index.php?page=general-information-prelim

4. May 15th – 16th – Monterey Rock & Rods – T-12 Jeep http://www.montereyrockrod.com/

5. May 30th – 31st Castroville Artichoke Festival Parade T–12 Jeep TBA http://www.artichoke-festival.org/index.html

<![if !supportLists]> 6. <![endif]>June 20th – 21st – Hollister Air Show – T-12 Jeep http://www.hollisterairshow.com/

7. July 4th – Monterey Parade – T-12 Jeep

8. July Date TBA Anniversary of Ft. MacArthur - S Patrol http://www.ftmac.org/

<![if !supportLists]> 9. <![endif]>Aug. 14th – Pacific Grove Concourse – T-12 Jeep http://www.pgautorally.org/

<![if !supportLists]> 10. <![endif]>Aug. 29th – War Birds over Paso Robles – T-12 Jeep http://www.ewarbirds.org/airshow/index.html

<![if !supportLists]> 11. <![endif]>Sept. 21st – 27th – MVCC "Camp Delta" fall meet – I usually only attend the Board and General meetings on Fri. and Sat. http://www.mvccnews.net/

<![if !supportLists]> 12. <![endif]>Nov. 11th – Veterans Day Parade Salinas – T-12 Jeep http://www.salinasveteransparade.org/joinus.html

There may be some last minute changes and I will post them on the site.

One last thing; I (we) would like to wish all of you a Merry Christmas and a Happy & Prosperous New Year.

Thanks for your support.

Jack, Kim, Rick and all of the members of the LRDG Preservation Society



---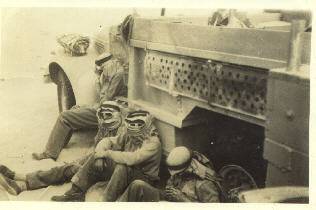 Tail end of a Sandstorm - WWII North Africa LRDG unit
Photo above is from WWII LRDG vet "Titch Cave" who now lives in South Africa. See more photos from Titch under "WWII LRDG units in the field" section. This is like being in a dust storm on the mars (very fine soot blowing 50mph plus, yellow or reddish haze\fog) that can last for several days. Sometime it will rain mud too. Actually there's a positive in that the fine silt covers everything and kills misquotes, "nature's insecticide".
---