---
LRDG Newsletter
Nov 30th 2015
Well there has been a lot of activity this year with the LRDG Preservation Society year. T-Patrol attended eight different venues and S-Patrol attended at least four that I know of. (Two desert battles in California City, Planes of Fame in Chino and Ft. MacArthur Days). S-Patrol always has had a better attendance at their events as they have more Troopers in the area. I usually have a few dedicated Troopers that show up and support our efforts here in the northern part of the state.
There have been some challenges this year also; our original long time LRDG fitter and builder of T-8 (Rick) has had some health challenges this past year. He was recently hospitalized for a "gallstone attach". What is more important is that his memory and mental acuity is noticeably deteriorating. He therefore has been unable physically to continue any work on the T-9 Radio truck; so I had to make some tough decision. Either to abandon the project completely; pay big bucks to have someone else finish it, or lastly turn the project over to someone interested enough to finish it.
So after much consideration I decided that I did not currently have the financial ability to pay someone to finish it and was abhorred to just abandon it; so that left me with the last choice, to see if I could find someone with enough interest and commiserate people with the skills and funds to complete the project.
I approached several over a period of several months that showed interest but they were heavily involved in several other projects and were unable to complete it in time for the MVPA Convention, next Aug 11th-13th, which was one of my conditions. I finally found just the "outfit"; that has the people and finances to complete T-9.
Doug Boales is the President of Eagle Field Foundation. Eagle Field is a former 1942 Army Air Force Training base which is located in Firebaugh, Ca. which is just south of Dos Palos, and Los Banos, California. Currently it has the only original large wooden hanger from that era in the United States. Doug primary interest is in Post WW II Armour; he has worked in the past closely with Jacques Littlefield and the Littlefield Museum and has extensive mechanical abilities and talented people to assist him. If anyone would like to assist him in the project I'm sure he would appreciate any help. Let me know and I will see that you can contact him.
He has taken both trucks to Eagle Field on the weekend of Nov 28th; to do some much needed repairs and repaint T-8 in time for the April Tower Park event; and then finish T-9 in time for the MVPA Convention in August 11-13th.
With all that said I would like to strongly encourage others in California, Oregon, Washington and any other part of the world that has a LRDG, S.A.S and P.P.A. style jeeps to plan on attending the convention. We have already picked out a flat area for our display and will hopefully setting up our largest desert display ever. And those without vehicles are also invited to attend in appropriate LRDG desert attire.
<![if !vml]>
<![endif]>
<![if !vml]>
<![endif]>
<![if !vml]>
<![endif]>
<![if !vml]>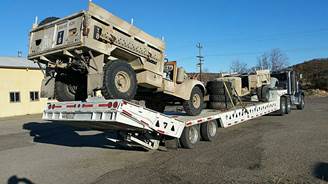 <![endif]>
<![if !vml]>
<![endif]>

Now for a tentative schedule of 2016 events:

<![if !supportLists]> 1. <![endif]>March TBA – CHG Desert Battle – Most likely back to Stoddard Valley (TBA) S Patrols http://www.chgww2.net/events/

<![if !supportLists]> 2. <![endif]>April 17th - 24th – MVCC "Camp Delta" – Tower Park, Lodi, Ca. I have reserved three camp sites and there should be plenty of room for all of us. T - Patrol http://www.mvccnews.net/

<![if !supportLists]> 3. <![endif]>May TBA - Planes of Fame – Chino – S– Patrols http://planesoffame.org/index.php?page=general-information-prelim

<![if !supportLists]> 4. <![endif]>May 26th – 28th – ATHS Convention – Salem, Or. ? http://www.aths.org/CalendarEvents

<![if !supportLists]> 5. <![endif]>June 19th – 20th – Hollister Air Show – T-12 Jeep http://www.hollisterairshow.com/

<![if !supportLists]> 6. <![endif]>July 3rd - Seaside Parade of Champions – T-12 Jeep

7. July 4th – Monterey Parade – T-12 Jeep

8. July 9-10th Anniversary of Ft. MacArthur - S-Patrol http://www.ftmac.org/

<![if !supportLists]> 9. <![endif]>Aug. 11th -13th – MVPA Convention at Alameda County Fair Grounds http://www.mvpa.org/home/mvpa-convention/upcoming-convention/

<![if !supportLists]> 10. <![endif]>Aug. 29th – War Birds over Paso Robles – T-12 Jeep http://www.ewarbirds.org/airshow/index.html

<![if !supportLists]> 11. <![endif]>Sept. 19th – 27th – MVCC "Camp Delta" fall meet – I usually only attend the Board and General meetings on Fri. and Sat. http://www.mvccnews.net/

<![if !supportLists]> 12. <![endif]>Nov. 11th – Veterans Day Parade Salinas – T-12 Jeep http://www.salinasveteransparade.org/joinus.html

There may be some last minute changes and I will post them on the site and /or on the Facebook site.

One last thing; I (we) would like to wish all of you a Merry Christmas and a Happy & Prosperous New Year.

Thanks for your support.

Jack, Kim, Rick and all of the members of the LRDG Preservation Society



---