Book Review
Operation Agreement: Jewish Commandos and the raid on Tobruk
By John Sadler
Published in 2016, the blurb on the book cover gives the impression that the SIG (Jewish Commandos) are the principle focus of this book within the context of the disastrous Tobruk raid that has now gone into legend.
These soldiers, most from Germany who escaped and enlisted with the Allies, shone a spotlight on a rarely researched element of the Desert War and the book suggested that there was more material that had been researched and now published. Sadly, it looks like no more than was available in the Gordon Landsborough book, Tobruk Commando, written some six decades ago. In the acknowledgements Sadler does squarely accept this book is 'the first and probably best account of the raid'.
However, to be fair to this book, it is a very readable look at the raid, and while the book is no way written from the perspective of the Jewish commandos, as an interesting and well written piece of work, it is worthy of a place in the LRDG library for enthusiasts. And for those who were not familiar with Landsborough's book this will certainly hopefully bring the role of the LRDG in the North Africa campaign to a new readership which can only be a good thing.
The book starts with promise, the first chapter being called 'The Lions of Judah' and it is here perhaps more context of the history of the involvement of Jewish soldiers is given. But from this point the story does ramble into the bigger picture of the Desert War and much time is spent (another five chapters!) on explaining the various main characters and the chronological see-saw actions that epitomised the early fortunes of war in North Africa.
For anyone not fully aware of how many elements came together to change those fortunes over two bloody years, the book brings these together and certainly creates a thorough backdrop to the raid and perhaps explains how from a seed of an idea from John Haselden, a true friend of the LRDG, it quickly got out of hand and became a large and ungainly plan that was doomed to failure.
Only chapters six to eight then focus on the raid, covering both the LRDG involvement in taking commandos across the desert to attack Tobruk from land and the huge, fatally flawed Naval involvement that was to attack from the sea. One thing that the book underlines, highlights and puts in bold, is the sheer courage of all those involved. And how, despite the odds, they did not consider failure an option until way past when any sensible strategist would have realised all was lost.
Chapter nine, Retribution, was certainly a highlight. While it principally dealt with the attempted rescue efforts and subsequent withdrawal of the naval elements, the savagery of the relentless pursuit and destruction of ships involved in the raid was superbly written and really brought to life the heroism and tragedy of the Navy personnel involved. It is often too easy to forget that there were many who were just as heroic as those who served in Special Forces, and while their service was not as exciting and unique, their daring and courage were just as commendable. There was a small section on what happened to those Jewish commandos and others who escaped, but no more detail than Landsborough had already written about previously.
The final chapter brought the whole tragic episode together, including the Benghazi raid, a principally LRDG/SAS affair that had some success. As ever apportioning of blame, often unfairly, was well documented and interestingly an analysis on how this raid probably gave Monty his break in taking over command in North Africa, was equally noteworthy. What it did also highlight was that the original plan of John Haselden was on sound principles and endorsed by David Lloyd Owen and the LRDG and perhaps, and it is only conjecture now with hindsight, but perhaps a small, contained but focused raid, coming from the desert alone, might just have succeeded...
So in summary, certainly a good read, and with a lot of well researched background, which gave a broader perspective of the bigger picture and the tensions and conflicts that abounded in the region at this time. The account of the LRDG and SIG was good, the detail of the actual raid quite comprehensive, as were the post attack repercussions. But did the content justify the emphasis in the title? Probably not. A better title might have been Operation Agreement: Disaster at Tobruk and while Tobruk Commando will still be the definitive account for LRDG enthusiasts this recent publication will help bring this raid to a new generation of followers.
Review written by Duncan Burman – member of the LRDG Preservation Society Facebook Site.
Book Review
One of the many
By Desmond Duffy
I mentioned this title; briefly in a previous book review. It was written by Desmond Duffy in memory of his brother Lt. Michael Duffy. It is a large book measuring 8 in by 12 in. compared to the other volumes covering this event. However it is only 76 pages long and many of them are just photos; that I had never seen before receiving the book. But have since, seen them in other publications.
It was a gift from the author and signed to me. He provided a letter with the book and in it he tells how these photos came into light.
"In Verona, in 1961, a retired Captain in the Italian Army, Cesare Berciolini, was reminiscing with colleagues about his adventures in North Africa during WWII. He ask his son, Giogio, to get his uniform which he had carefully kept and wanted to show his friends. Giogio brought out the uniform and told his father that he found a roll of film in one of the pockets. On reflection he remembered how he acquired the film.
On Sept 14th 1942, when the remnants of the Commando forces had been captured at Tobruk, this officer noticed that a one of the captured British officers (Lt. Graham Taylor) had a camera. He confiscated the film but returned the camera."
The photos were eventually published and have been seen and published in a number of books and articles. One of the said photos. David Lloyd Owen with the binoculars.
Now back to the book…..
The first part of the book covers Michael's early life, schooling, etc. He then started his military career by joining "The London Scottish" in Jan 1940. In Sept 1940 he went to OCTU, he passed with Grade A and in Dec. 1940 was a new Second Lt.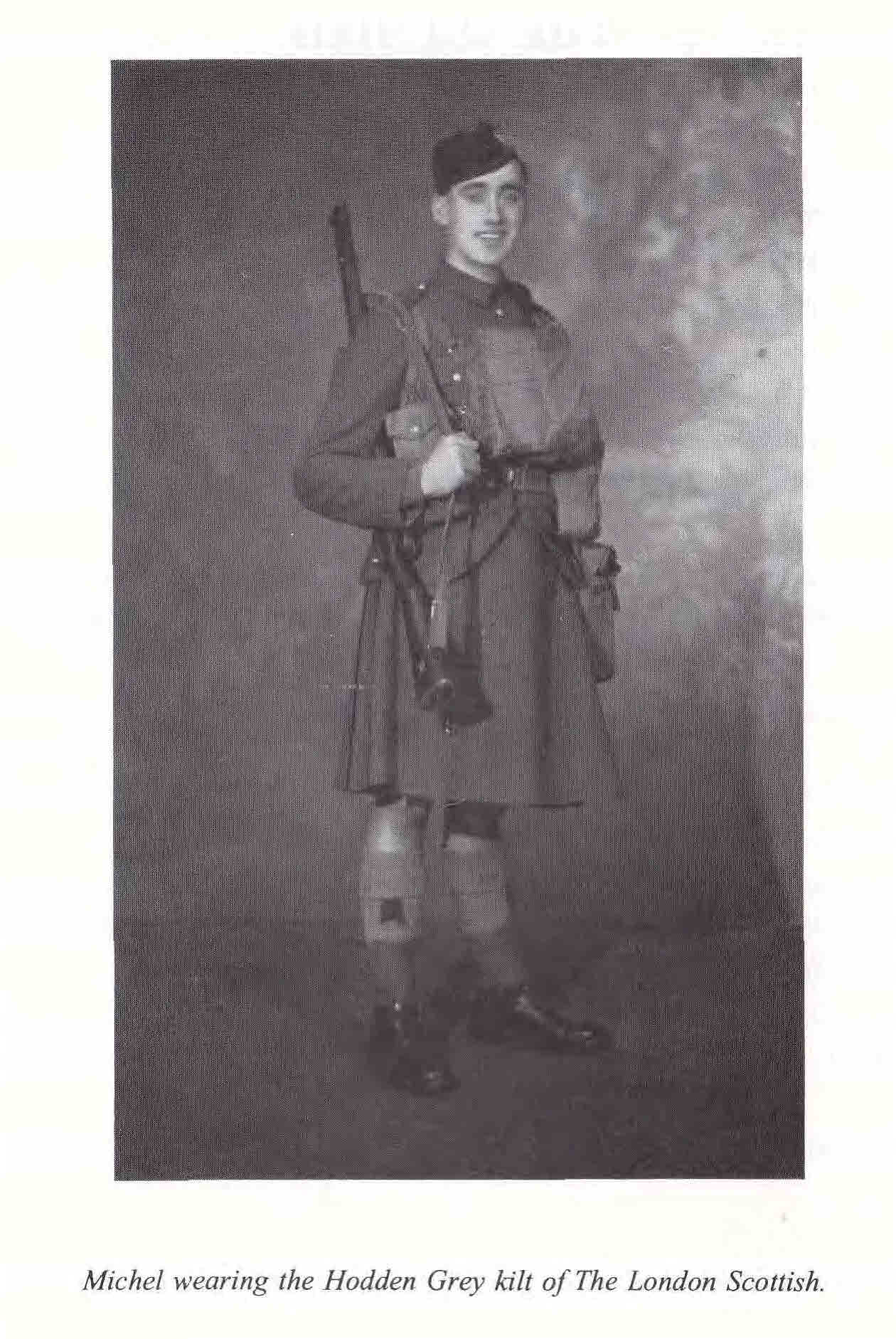 Shipped the long way around the Horn; he arrived in Egypt on May 9th 1941, and he immediately saw action in the Western Desert. On his letters home, the censors were quite busy but with clues in the news media, the family figured out that he was on Crete when it fell.
In June of 1941, Layforce was to be disbanded; and Churchill had demanded that the Middle East Commandos be reformed and on August 26th 1941, Lt. Michael Duffy found himself officially in the Middle East Commandos.
Not mentioned in this book, but history and other books tells us that MEC was sent to Syria, and on their return from there; units of the MEC were attached to the LRDG. And that is where he found himself for several months.
This is where I found it quite interesting, as in all other books I have read, there has been very few details about the MEC, when they were attached to the LRDG. On pages 22 - 26 of this volume; it does describe in some detail of their training, road watch and the issuing of their own trucks.
On June 4th 1942; two MEC Patrols left Siwa, with 9 officers, and 64 other ranks. They had instructions to carry out offensive action against enemy transport, dumps and personnel, on two roads many miles inside enemy territory.
On the 10th, while preparing to attack their chosen target, they were spotted by an Italian plane and were attacked by two fighters and a bomber and lost 4 out of 5 trucks. On the 14th the second patrol was going to attack the same location, they were again spotted and lost all 6 of their trucks. Fortunately for them they were found by another LRDG Patrol and brought back to Siwa. That was the end of the involvement of MEC and Lt. Duffy with the LRDG.
He again shows up leaving Abassia Barracks; Aug 24th 1942, still called commandos but officially known as Special Service Regiment, on their way to meet Y Patrol of the LRDG to be led across the desert to Kufra oasis, resting up for a few days then on to Tobruk.
We then see many of the photos from the confiscated camera of Lt. Graham Taylor; as described above, of their stay in Kufra.
And then their travels between the two great sand seas.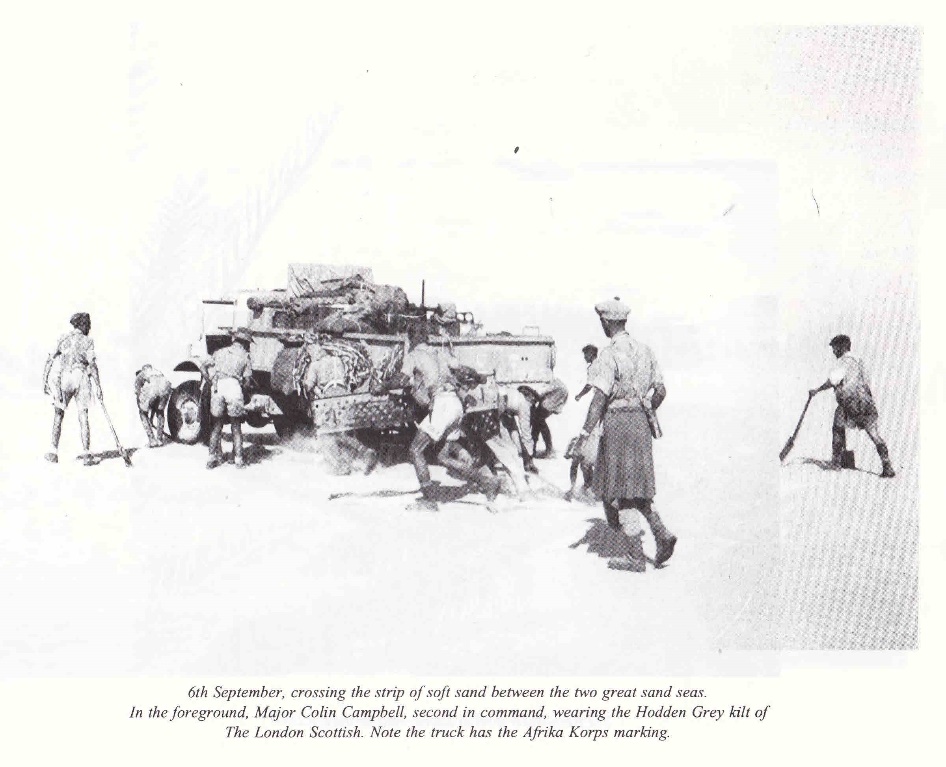 At this point; the author doesn't go into any great detail about the battle of Tobruk as it has been very well covered by other authors. The rest has some maps, several Chronological tables, and photos of memorials.
It would be a good addition to any LRDG library, but I do believe impossible to find.
Book Review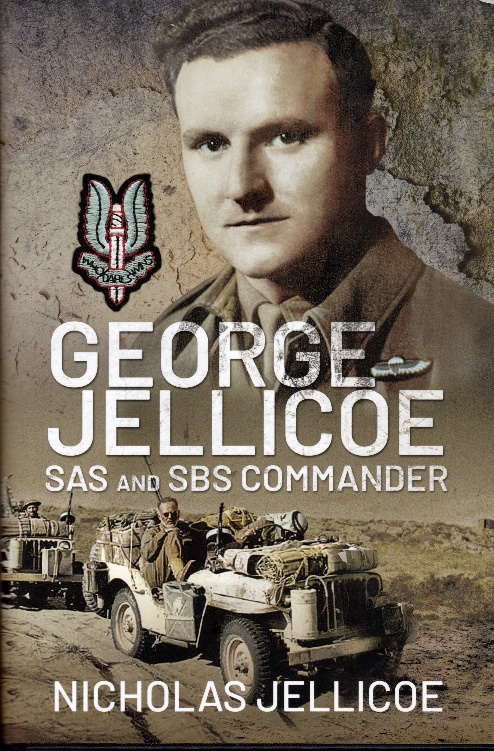 George Jellicoe
SAS and SBS Commander
By Nicholas Jellicoe
Well reading two books back to back about George Jellicoe; has been rather interesting, getting the perspective of two different authors, one of which was his son, gives a good over all view of Lord George Jellicoe.
In the previous book, the author devoted the first eight chapters to George's military career. In this title the first fourteen chapters are devoted to his military career. First four were his early years in the desert, where he meets people that he would cross pass with throughout the rest of the war. David Stirling, Carol Mather, Blair Mayne etc. etc.
It covered the formation of the S.A.S. their interaction with the LRDG; early S.A.S. raids, their failures and their successes. The loss of Jock Lewes and other events led David Stirling to offer George a chance to join his command. Which he did after getting released form the Coldstream Guards.
His first mission was to Crete, a raid on the airfield at Heraklion with George Berge and his Free French S.A.S. Team. A successful mission where a total of 19 twin engine Ju88's; a single Dornier 17, a Me 109, a Storch, 4 trucks and a fuel dump were destroyed using the famous Lewes Bombs.
Here Nicholas goes into great detail about a number of raids in the desert airfields; most of them quite successful. This was also the time when the S.A.S. changed tactics by using the unique jeeps.
Part II Chapters 5 through 14:
With Jock Lewes killed and David Stirling recently captured, the S.A.S. future was in doubt. It was here that Paddy Mayne was placed in command of the S.A.S. and George Jellicoe was placed as Commander of the S.B.S.
Throughout the book there a number of excellent maps that outline many of the raids and also what are called "side bars". One of the side bars explains the origin of the "Special Boat Squadron" and its various permutations.
i.e.
Special Boat Section
Special Boat Service
Special Boat Squadron
Chapter 6 cover several raids again on Crete and a failed one on Sardinia. Jellicoe was excluded from these raids as he had been briefed on "Operation Husky"; the invasion of Sicily.
In early September 1943; Italy had approached the Allies for a surrender agreement. It was signed on the 3rd but not announced until Sept. 8th. Now Churchill had always wanted the Dodecanese Islands (which were occupied by Italy and German Forces) in allied hands, hoping to get Turkey to enter the war on the allied side.
Jellicoe was tasked to parachute into Rhodes with a radio operator and a translator to negotiate with the Commanding Officer to have his 35000 troops turn on the 5000 Germans and take over the island until such time as the British could muster forces to land I force.
That didn't work out, so the British tried to move into some of the other islands, Kos (Cos); Leros, Samos and several other of the smaller islands.
Nicholas does a nice job of covering all of the action with details of the loss of Kos and the battle for Leros. George's capture and escape from Leros. Now I believe that I have read most books covering the Dodecanese and the ensuing battles but this book will make a good companion to "Julie Peakman's – Hitler's Island War"; and "Anthony Roger's – Churchill's Folley", plus several others that I have in my library.
Now is the time when George Jellico's S.B.S. begins to shine. He was not done with the Germans and the Dodecanese Islands. Chapter 10 is devoted to all of the S.B.S.'s actions along with the GSS (Greece Sacred Squadron) in 1944 against many islands that previously I hadn't heard of; requiring the Germans to increase manpower to these areas, instead of other areas where there was a greater need. Although his name does not show up as an active participant, he was much involved in all of the planning.
Now even with this all happening he found sometime in 1944 to marry his first wife Patsy O'Kane.
In October of 1944; the Germans were evacuating Greece, which was politically in a turmoil, with several factions wanting control of the country after the Germans departed. Again George and the S.B.S. were in the thick of things. Trying to keep ahead of them to prevent destruction of bridges and other valuable Greek assets. His unit hounded them up the Greek coast.
Meanwhile keeping the Greek factions a bay, he finally entered Athens (on a bicycle) and using his negotiation skills, to prevent a civil war between the factions of Greece.
Now George did not do all of this single handed; he had under him a number of other units, some from the GSS, units of the LRDG, #9 Commando and of course men of the S.B.S. Shortly thereafter the war in Greece was over, and in Dec. 1944 he turned command of the S.B.S. over to David Sutherland. And he was off to "Middle East Staff College".
At wars end he found himself as Second in Command of the U.N. Relief & Rehabilitation Agency, working with the many displaced people brought about by WWII.
At a young age and even before the war started, George had always want to serve in the "Foreign Service". Finally to achieve his goal; he started out as Grade 8 in the Foreign Office 3rd Secretary in the German Political Department located in London.
Then serving in Washington, DC. Meeting; while there notables like, Pres. Richard Nixon, Pres. Jack Kennedy and J. Edgar Hoover. And even became friends with the (spy) Kim Philby. Then on to Brussels as Head of Chancery and then Charge d' Affaires. In 1953 (Nicholas birth year) the Jellico marriage was already falling apart.
In 1956 he was transferred to Baghdad; as 1st Secretary and Deputy Secretary-General of the Baghdad Pack. At this time he had already found a new love (Philippa Dune Bridge). They were a couple for ten years before his first wife agreed to a divorce.
Back to London, there giving up his service in the Foreign Service to marry Philippa.
At this point in his life he entered into politics, serving in the House of Lords, and also many commercial boards. He had his up's and down's. Dying on Feb 22nd 2007 from a heart attack.
I enjoyed reading this book for a number of reasons, the first being that Nicholas covered more of his WW II activities, second he included LRDG references when they were appropriate (my primary interest) and third his writing style. Both books would be a great addition to anyone's library.
Book Review
A British Achilles
Story of George 2nd Earl Jellicoe
KBE DSO MC FRS
By Lorna Almond Windmill
Like I said in the preamble of my "LRDG Research Materials"; I'll read any title that has the least tiny bit of information about the LRDG.
Now I knew a few things about George Jellicoe and his activities in WW II in North Africa and the Mediterranean. So I though this title would bring him and his WW II activities more into focus along with any activities featuring the LRDG.
Back to this title: I was most interested in the first seven chapters of the book as it had to do with George's activities during WW II. It has a number of nice maps in the front which shows areas in which most of his active centered on, North Africa, Crete, Rhodes, the Dodecanese and Greece. Along with 30 photos throughout his career. One mislabeled as S.A.S but of Jake Easonsmith driving a LRDG Jeep.
Of those areas; any student of the LRDG, knows they were most active in North Africa, the Dodecanese and Greece and it was in these areas where George and the LRDG crossed past.
In Chapter 1 – he volunteered for 5 (Special Reserve) Battalion of the Scots Guards who was looking for experienced skiers for possible service in Finland. This is where he first met Carol Mather & David Stirling, who he was to cross paths later. Nothing developed; as Finland & Russia reached an armistice.
Next; looking for action, he joined up with Col. Bob Laycock's #8 Guards Commando's. After a number of aborted events the #8 Commando was disbanded. Jellicoe then joined up with the 3rd Battalion Coldstream Guards. Spending six months "in the Blue" with the Guards. Then while in Cairo on leave, he again ran into David Stirling at "Shepheard's Hotel". David was looking for a Second in Command of the L Detachment as he had recently lost Jock Lewes. He offered it to George and George jumped at the chance.
One of his first jobs was to get a Free French unit incorporated into the S.A.S. and since David wanted to expand the S.A.S. activities to include sea bourn raids, they were chosen for the first raids to Crete airfields, with Jellico in the lead.
After a number of successful raids, Jellico's knee was giving him problems, surgery was necessary and took place in Cairo, but he went back to England to recuperate. Where he met Anders Lassen.
Before his capture; David Stirling was looking for someone to command the S.B.S. a smaller unit of the S.A.S. for future activities in the islands of the Eastern Mediterranean and George was his man.
Looking to man a 250 unit force; he needed some experienced officers, Anders Lassen was one of them. Training commenced. Then the fighting in North Africa ended, and the Italians capitulated in Sept. of that year, all eye moved to the Dodecanese Islands. Which Churchill thought key to having Turkey enter the war on the sided of the allies.
Rhodes was the largest and key island, Jellico and several others were parachuted into Rhodes, to convince the Commander (of 30,000 Italian Troops) to take over from the Germans (5000 troops), so the British could have use of the airfields located on Rhodes. Unfortunately he was unsuccessful.
And the battle of the Dodecanese ensued. His units; along with the LRDG; the Greek Sacred Squadron and others regular army units were unsuccessful in defending the islands (Kos & Leros) from the determined German onslaught.
While his continued planning of raids on the Dodecanese Islands and the Greek Islands, he managed to find time to get married on March 23rd 1944. As part of the Land Force Adriatic (LFA) they also mounted raids against Italy and Yugoslavia.
Since he had such a close relation with the Greek Sacred Squadron, he was also charged with intervening in the German withdrawal from Greece and the pending civil war between factions in Greece. Ultimately arriving in Athens (on a Bicycle); intervening between the warring factions, while the Germans hightailed it out of Greece.
This is as far as my interest took me; as the following chapters, eight thru 14 was all about his post WW II activities. As I had gotten this far, I really felt that I should finish the book just to see what happened in the rest of his life.
Politics was the main focus of the following chapters, as he had a number of very important offices in the British Government. But in Chapter 13 (unlucky 13), there came some information that I never hear of. It appears; although married, divorced his 1st wife, and remarried, he had some time to "dally" with women from "escort services". Although he was extremely cautious; fearing that his name would come out in public, and not wishing to embarrass the PM and the reigning government, he resigned his position.
Apparently willing to own up to his weakness did not hurt is standing in the world; as he subsequently held a number of board positions with both UK and US companies.
Now my next book is going to be by his son Nicholas Jellicoe; we will see how he paints his father's activities.
LRDG Reference Materials and Texts
I have been collecting any references about the LRDG since 1992 (and before). Some of these listed below have only cursory statements or information about the LRDG. Others have detailed information and photos about the LRDG and their activities. If you have specific questions about any reference please contact me at lrdg@Prodigy.net

      1. Adair, Robin – British Army : North Africa 1940-43 (1974)
      2. Allardice, Dallas – Friendship in a time of War: 1939-1946 (2015)
      3. Army Board, Wellington – Prelude to Battle – New Zealand in the First Libyan Campaign (1942)
      4. Asher, Michael – The Regiment: The Real Story of the SAS (2007)
      5. Bagnold, Ralph A. – Sand, Wind & War: Memoirs of a Desert Explorer (1990)
      6. Bagnold, Ralph A. – Libyan Sands (1941)
      7. Bagnold, Ralph A – Early Days of the LRDG (1945)
      8. Barker, Lt. Col. A.J. – Afrika Korps (1978)
      9. Barnett, Correlli – The Desert Generals (1961)
      10. Bender, Roger J. – Afrika Korps - Uniforms, Organization & History of (1973)
      11. Bierman, John & Colin Smith – Alamein: War without hate (2002)
      12. Bimberg, Edward L. – Tricolor over the Sahara (2002)
      13. Brayley, Martin & Ingram, Richard – The WW II Tommy (1998)
      14. Bouchery, Jean – The British Soldier – Vol. I (1998)
      15. Bove, Paul E. – Leclerc's Long March – World War II – May 2001
      16. Buckley, Christopher – Five Ventures: Iraq-Syria-Persia-Madagascar-Dodecanese (1954)
      17. Carell, Paul – The Foxes of The Desert (1962) Paperback
      18. Carell, Paul – The Foxes of The Desert (1994) Hardback
      19. Chappell, Mike – British Infantry Equipment 1908-80: No 108 Osprey – Men-At-Arms (1980)
      20. Clayton, Peter – Desert Explorer: Biography of Col. P.A. Clayton
      21. Clifford, Alexander G. –The Conquest of North Africa 1940-1943 (1943)
      22. Clifford, Alexander – Three against Rommel (1943)
      23. Cowles, Virginia – The Phantom Major: The Story of David Stirling & the S.A.S. Regiment (1958)
      24. Crisp, Maj. Robert – Brazen Chariots (1960)
      25. Crichton-Stuart, Michael – G Patrol: the Story of the Guards Patrol of the L.R.D.G.
      26. Darman, Peter – Surprise Attack: Lightning Strikes of the World's Elite Forces (1993)
      27. De Belot, Raymond – The Struggle For The Mediterranean 1939-1945 (1951)
      28. De Chair, Somerset – The Golden Carpet (1945)
      29. Denny, Harold – Behind Both Lines (1942)
      30. D'Este, Carlo – World War II in the Mediterranean 1942-1945 (1990)
      31. Dugan, Sally – Commando: The Elite Fighting Forces of the Second World War (2001)
      32. Eppler, John – Operation Condor: Rommel's Spy (1974)
      33. Eshel, David – Elite Fighting Units (1984)
      34. Forty, George – Desert Rats at War
      35. Gallagher, Wes – Back Door to Berlin
      36. Gilbert, Adrian - The Imperial War Museum Book of THE DESERT WAR (1992)
      37. Gordon, John W. – The Other Desert War: British Special Forces in North Africa 1940-1943 (1987)
      38. Greene, Jack & Massignani, Alessandro – Rommel's North Africa Campaign (1994)
      39. Gower-Collins, Clive – The Long Range Desert Group & Coalition Issues - NZ Army Journal Dec. 1999
      40. Gross, Kuno, Roberto Chiarvetto & Brendan O'Carroll – Incedent at Jebel Sherif (2009)
      41. Gross, Kuno – The Bagnold Sun-Compass: History & Utilization (2011)
      42. Gross, Kuno, Michael Rolke & Andras Zboray – Operation Salam (2013)
      43. Guedalla, Phillip – Middle East 1940-1942 A Study in Air Power (1944)
      44. Harrison, Frank – Toburk: The Great Siege Reassessed (1996)
      45. Hall, Ian – Churchill's Secret Armies: War Without Rules
      46. Hastings, Stephen – The Drums of Memory (1994)
      47. Heckstall-Smith, Anthony - Tobruk: The Story of a Siege (1960)
      48. Hill, Ron – Now or Never: War Time Experiences (1997) unpublished – Bob Amos-Jones
      49. Hill, Russell – Desert War (1942)
      50. His Majesty's Stationery Office – Destruction of an Army – The First Campaign in Libya: Sept. 1940 – Feb, 1941
      51. Hoe, Alan – David Stirling: Authorized Biography of the SAS (1992)
      52. Ingersoll, Ralph - The Battle is the Pay-Off (1943)
      53. Ireland, Bernard - The War In The Mediterranean 1940 - 1943 (1993)
      54. Jablonski, David - The Desert Warriors: The Battle for North Africa 1940-43 (1972)
      55. Jackson, W.G.F. - The Battle For North Africa 1940-43 (1975)
      56. James, Malcolm - Born of the Desert: With the S.A.S. in North Africa (1945)
      57. James, Malcolm - Born of the Desert: With the S.A.S. in North Africa (1991)
      58. Jarrett, Col. G.B. – West of Alamein (1971)
      59. Jenner, Robin and List, David. The Long Range Desert Group. No. 36, Osprey (1983)
      60. Jenner, Robin and List, David. The Long Range Desert Group. No. 32, Osprey (1999)
      61. Jewell, Brian – British Battledress – 1937-61: No 112 – Osprey Men-At-Arms (1981)
      62. Jones, Tim – SAS Zero Hour:Secret Origins of the SAS (2006)
      63. Joplin, Frank – The Diary of Frank Joplin – unpublished no date – Bob Amos-Jones
      64. Kay, R.L - Long Range Desert Group in Libya, 1940-41. War History Branch, Dept. of Internal Affairs, Wellington, NZ 1949
      65. Kay, R.L. -Long Range Desert Group in the Mediterranean. War History Branch, Dept. of Internal Affairs, Wellington, NZ 1950
      66. Keoghane, Stephen – Primus in Armis: History of the Royal Wiltshire Yeomanry (2020)
      67. Ladd, James – Commandos and Rangers of World War II (1978)
      68. Landsborough, Gordon - Tobruk Commando : The Raid to Destroy Rommel's Base (1956)
      69. Landsborough, Gordon - Tobruk Commando : The Raid to Destroy Rommel's Base (1989)
      70. Langley, Mike – Anders Lassen VC, MC, of the SAS (1988)
      71. Larson, Mel – Field Marshal Bernard L. Montgomery (1955)
      72. Lewin, Ronald – The War on Land 1939-45 Vol. 3 (1969)
      73. Lewin, Ronald – The Life & Death of the Afrika Korps (1977)
      74. Lewis, Damien – Churchill's Secret Warriors (2015)
      75. Lewis, Damien – SAS Ghost Patrol (2017)
      76. Lytton, Noel A. - The Desert and the Green (1957)
      77. Lucas, James - War In The Desert: The Eighth Army at El Alamein (???)
      78. Macksey, Kenneth – Commando: Hit & Run Combat in WW II (1985)
      79. Maclean, Fitzroy – Eastern Approaches (1951)
      80. Majdalany, Fred - The Battle of El Alamein: Fortress in the Sand (1965)
      81. Marshall, Howard – Over to Tunis (1943)
      82. Mather, Carol – When the Grass Stops Growing (1999)
      83. Medd, Peter & Frank Simms – The Long Walk Home (2019)
      84. McEwen, John - Escape (1985)
      85. McGuirk, Dal – Rommel's Army in Africa (1993)
      86. McMillan, Richard - Rendezvous With Rommel: The Story of Eighth Army (????)
      87. Messenger, Charles - The Tunisian Campaign (1982)
      88. Mitcham Jr., Samual W. – Rommel's Greatest Victory (1998)
      89. Mollo, Andrew & Smith, Digby – World Army Uniforms Since 1939 (1986)
      90. Molony, Brig. C.J.C. - History of WW II "The Mediterranean & Middle East " Vol. V (1973)
      91. Moorehead, Alan - Mediterranean Front (1942)
      92. Moorehead, Alan - African Trilogy (1944)
      93. Moorehead, Alan – The Desert War: The North African Campaign 1940-1943 (1965)
      94. Morgan, Mike – Sting of the Scorpion (2000)
      95. Morrison, William (Bill) – Jack of all Trades unpublished – Bob Amos-Jones
      96. Mortimer, Gavin – The Daring Dozen: 12 Special Forces Legends of WWII (2012)
      97. Mortimer, Gavin – The Men Who Made The SAS (2015)
      98. Mortimer, Gavin – The LRDG in WW II (2017)
      99. Mortimer, Gavin – Vehicles of the LRDG 1940-45 (2020)
      100. Mosley, Leonard – The Cat and The Mice (1958)
      101. Naglieri, Valerio – Carri Armati Nel Deserto (1972)
      102. Noren, Karl-Gunnar & Lars Gyllenhall – Spok Patrullen (Goast Patrol) Finnish Publication (2012)
      103. Noren, Karl-Gunnar & Lars Gyllenhall – The LRDG: History & Legacy (2019)
      104. Owen, Lt. Col. David Lloyd - The Desert My Dwelling Place (1957)
      105. Owen, Maj. Gen. David Lloyd - Providence Their Guide (1981
      106. Owen, Maj. Gen. David Lloyd - Providence Their Guide (2001)
      107. O'Carroll, Brendan – The Kiwi Scorpion (2000)
      108. O'Carroll, Brendan – The Kiwi Scorpion (2008)
      109. O'Carroll, Brendan – The Bearded Brigands (2002)
      110. O'Carroll, Brendan – Barce Raid (2005)
      111. O'Carroll, Brendan – The LRDG in the Aegean (2020)
      112. O'Carroll, Brendan – Images of War: The LRDG in Action 1940-1943 (2020)
      113. Peakman, Julie – Hitler's Island War (2018)
      114. Peniakoff, Lt. Col. Vladimir - Popski's Private Army (1953)
      115. Phillips, C.E. Lucas - Alamein (1962)
      116. Pitt, Barrie - The Crucible of War: Western Desert 1941 (1989)
      117. Playfair, Maj.Gen.I.S.O. - History of WW II "The Mediterranean & Middle East" Vol. I (1954)
      118. Playfair, Maj.Gen.I.S.O. - History of WW II "The Mediterranean & Middle East " Vol. II (1956)
      119. Public Record Office – Special Forces in the Desert War 1940-1943 (2001)
      120. Rainier. Maj. Peter W. - Pipeline to Battle : An Engineer's Adventures with the 8th Army (1943)
      121. River, W. L. - Malta Story (1943)
      122. Robinson, James A. – Alexander: Portrait of Field Marshal Viscount Alexander (1946)
      123. Robinson, William T. (Student) – The Long Range Desert Group 1940-1943 - American Military University: Unpublished Research Paper – Course #RC500A
      124. Rogers, Anthony – Churchill's Folly: Leros & the Aegean (2003)
      125. Rogers, Anthony – Churchill's Folly: The Battle for Kos & Leros, 1943 (2017)
      126. Rogers, Anthony – Swastika Over The Aegean: Sept-Nov 1943 (2013)
      127. Sadler, John – Ghost Patrol: History of the LRDG 1940-1945 (2015)
      128. Sadler, John – Operation Agreement :Jewish Commandos & Raid on Tobruk (2016)
      129. Sanders, James – Desert Patrols : New Zealanders with the LRDG (1976)
      130. Schmidt, Heinz Werner – With Rommel In The Desert (1951)
      131. Schmidt, Heinz Werner – With Rommel In The Desert (1991)
      132. Sears, Stephen W. - Desert War In North Africa (1967)
      133. Seymour, William – British Special Forces (1985)
      134. Shaw, W.B. Kennedy - Long Range Desert Group (1945)
      135. Shaw, W.B. Kennedy - Long Range Desert Group (1989)
      136. Shaw, W.B. Kennedy - Long Range Desert Group (2000)
      137. Shortt, James G. – The Special Air Service - Osprey No.116 (1981)
      138. Smith, Peter C. - Massacre At Tobruk (1987)
      139. Strawson, John - The Battle for North Africa (1969)
      140. Stuart, Michael Crichton - G Patrol (1976)
      141. Swinson, Arthur - The Raiders: Desert Strike Force (1968) Paperback
      142. Syrett, David. – Long Range Desert Group Operations in North Africa. City University of New York, Unpublished, no date
      143. Syrett, David – The Eyes of the Desert Rats : British Long Range Recon Operations in North African Desert 1940-43 (2014) Published after his death
      144. Taylor, Henry J. – Men in Motion (1943)
      145. Thomas. David - Nazi Victory: Crete 1941 (1973)
      146. Thompson, Julian – War Behind Enemy Lines (1998)
      147. Thompson, Leroy – Clipping Rommel's Wings – War Vol. #2 Spring 1990
      148. Timpson, Alastar – In Rommel's Backyard (2000)
      149. Truby, J. David – Undercover – World War II – March 1987
      150. Underwood, James R. Jr. & Robert F. Giegengack – Piracy on the High Desert: The Long Range Desert Group 1940-1943
      151. U.S. Military Academy - The War In North Africa "Part 1" (1948)
      152. U.S. Military Academy - The War In North Africa "Part 2" (1947)
      153. Warner, Phillip – The SAS: The Official History (1971)
      154. Werbaneth, James P. – Helpful Conduct by the Enemy – World War II – May 1992
      155. Wilder, Andrew – Distinguished Service – Nick Wilder (2019)
      156. Windmill, Lorna Almonds –Gentleman Jim (2001)
      157. Woollcombe, Robert – The Campaigns of Wavell 1939-1943 (1959)
      158. Yunnie, Park – Warriors on Wheels (1959)